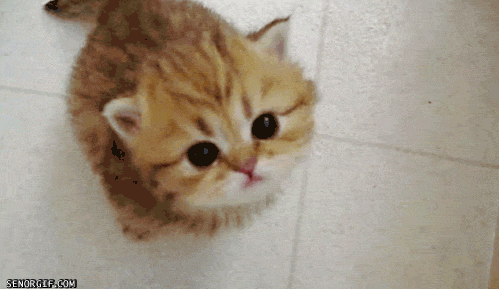 Do you hear that? That's the sound of all my dreams coming true.
Demeter Fragrances has finally created a scent that smells like kittens. The fragrance, aptly named Kitten Fur, supposedly took 15 years to develop and captures "the olfactory essence of the warmth and comfort of that purrfect spot, just behind a kitten's neck.". Oh. My. GOD.
Cat-scented everything, minus the allergies!! It's not April 1st – I've checked. The fragrance is REAL and my time is now. Behold.
While some users on Facebook are skeptical, claiming that cats smell like nothing or worse, like "litterboxes and dirt", others adore the smell of their kittens. One user leaps to her cat's defense, saying it smells like "a mix between newborn baby, a freshly baked loaf of bread and the scent of home." Other cats apparently smell like anything from honey to cinnamon buns to baby powder. Japanese respondents claim their cats smell like "the smell of sunshine"; "a futon that's been dried in the sun", and "sweet bread". As for Demeter's take on the scent, nobody yet knows what it smells like. The fragrance is still too new for any reviews to have surfaced.
Demeter Fragrances is renowned for their extensive fragrance catalogue that covers everything from cinnamon toast to saddle leather.
This great news comes just a week after Felissimo, a Japanese company and maker of dreams, launched a lipgloss that supposedly leaves you feeling as though you kissed a kitten's nose thanks to its soft and moist cooling sensation and light milk scent. That same glorious company also previously launched a fragrance spray that smells like the top of a cat's head, and a hand lotion that smells like a cat's paws (which we hear smells like popcorn).
Demeter Fragrances also ships worldwide. Kitten Fur starts at USD $6 (RM 27) for a half-ounce cologne splash and goes up to USD $39 (RM 175) for a 4-ounce cologne spray. You can also get it in perfume oil, body lotion, shower gel, massage oil, and room spray formats if you so wish.
I'm getting out my wallet right now.