How do you make going to work more enjoyable? Well we've got some ways you can do to chase the office blues away with a little help from the guys in the mockumentary sitcom, The Office.
Work can't all be serious and boring. A study has shown that people who have more fun at work have a higher productivity level and are able to even reduce the amount of skipping work.  The research revealed that injecting fun in the office had a positive result especially towards the younger crowd but the same cannot be said of the older ones. Not all of us are blessed with cool offices but we can make it work in these little ways.
1. Decorate your desk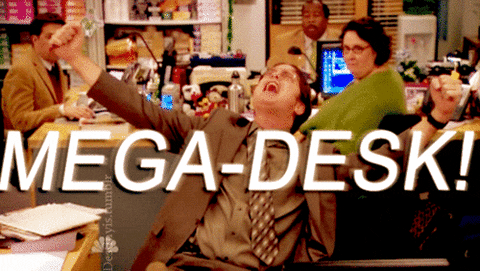 You spend hours after hours sitting at your cubicle and it gets pretty tiresome to look at the boring desk. Spruce up your workspace by incorporating pictures of family and friends, motivational quotes and cute desk accessories.
2. Make silly jokes
Laughter is the best medicine they say, well it's kind of true. According to a write up by huffingtonpost, laughing and making jokes in the office opens a channel for your creative juice to flow. It also provides a great experience to exchange ideas amongst colleagues whilst creating a strong bond.
3. Cake session
Cake makes the world go round with happy smiles everywhere. I mean who doesn't love cake? Whether you bake 'em or buy 'em, having the confectionary goodies around can be an excuse to slip in some 15 minutes time off from staring at your screen.
4. Bring in a 'success bell'
Depending on whether you share your office with other departments or you're all a group to yourself, you can place a 'success' bell to celebrate every time the team reaches their target. Everyone can rejoice and give each other a pat on the back.
5. Art Class
Don't let yourself be sucked dry by your hectic work life. Instead surround yourself with art. According to a study done by Dr. Craig Knight from the University of Exeter, an office that's clean and bare drives the worker to just do work without distraction but if you place art, people will feel much happier and more encouraged to do work, which is way better. Why not create your own artwork and put them up on display?
6. Celebrate birthdays
Birthdays are always fun. Celebrate everyone's birthday by going out for a team lunch and have a good talk and laugh about things outside of work. You can also plan out the day may be by making a card, getting a cake or ice cream or perhaps giving them a day off.
7. Take a walk
Sitting all day isn't good for your body and we know no one sits straight the whole day right? If you find yourself stuck, just get up and walk (or dance if no one is around) in the office or maybe go out and grab a coffee or buy yourself some goreng pisang or keropok lekor to clear your mind. Plus, walking has proven to improve your creativity, so why not?
8. Catch up on your show during solo lunch times
Well sometimes not everyone is in the office and you don't have to always go out for lunch. Why not have it at your desk (if allowed) and catch up on your current favourite show over that leftover dinner you brought for lunch. Just remember to not get too engrossed with it till you neglect your duties, okay?
Gifs: giphy.com