And they say dreams don't come true. 
No, it's not a hoax nor an inspired makeup palette that toyed with our feelings before. It's official guys! Storybook Cosmetics created a palette that made everyone rejoiced, even more than when Harry scored in a game of Quidditch!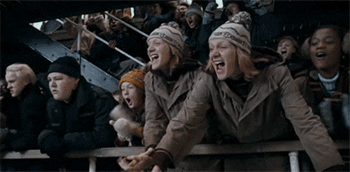 Meet the highly anticipated palette since the release of Harry Potter and the Deathly Hallows: Part 2. 
Behold, the Wizardry and Witchcraft Eyeshadow Palette! 
With 12 highly pigmented shades – from matte, satin to metallised finishes and with names that are inspired by the world of Hogwarts like Potions and Broomstick. Everything you need to create any look, from a sweet peach inspired one to a witchy, sultry smokey eye; this colour combo has it all!
This cruelty-free company has teased us for MONTHS on social media, even involving the fans every step of the way by asking them for inputs.
Just look at these two colours, definitely our favourite!
And the packaging is to die for! Shaped like a book of spells and comes with two brushes resembling wands, this is the ultimate makeup dream for any wizard and witches!
We have to say though, if the brushes were in the shape of the Elder Wand then our blending would be flawless! (But hey, that's just our opinion)
Now,  the question on everyone's mind would be "Where can we get this?" This magical palette is available for pre-sale tomorrow 25th February, 1AM, local time.  You're probably wondering about the cost and… it's priceless! (Just kidding, it's $52, approximately RM234.5). So, wands at the ready… and buy!